On a lovely Thursday evening, my girlfriend and I ventured to Porta Venezia to try an Italian restaurant that was already knew to us. Located on the corner of Via Felice Casati and Via Lecco, in the ground  level of a residential building.
Platina is also a laboratory. In the morning they produce different types of pasta you can buy it or find in the menu at lunch and dinner. The menu is constantly changing and is divided into antipasti, primi, secondi, and dolci. There are some items that are menu staples, but you're bound to have new options everytime you dine.
The restaurant itself is not too large, but felt warm and inviting upon arrival. We showed up without having a reservation. Luckily, there was still an available table!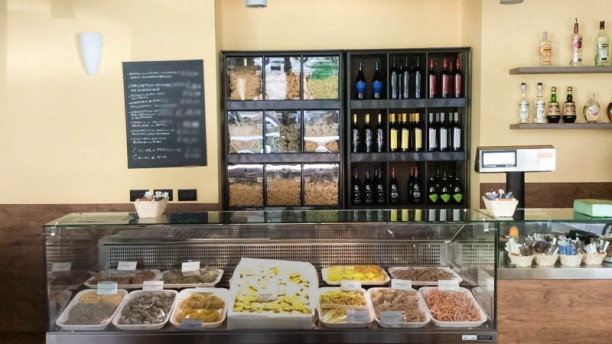 Pasta is the main character in the menu. We took a while before ordering because all the main courses sounded delicious! I got Spaghettoni alla chitarra con salsa di pomodorini ciliegini, fiori di zucca e ricottina di bufala from the regular menu.
The Spaghettoni alla chitarra are a long, square-shaped spaghetti strands using a stringed chitarra pasta cutter. I liked the choice of this pasta for the recipe.
Cherry tomatoes specifically called ciliegini in Italian and fiori di zucca are courgettes [zucchini, for all the Americans in the audience! – Ed] blossoms in English. They gave an extra flavour to the pasta and I chose this main course from the menu because of them.
Last but not least, the cherry on the cake or let's say the little ricotta on the pasta. It was divine! This pasta had all the ingredients and colours ( does remind you any country in particular?)  for being in my favourite list pasta recipe!
My girfriend ordered Paccheri in salsa di pomodorini e cuore di mozzarella di bufala from the special menu. Yes, apart from the regular menu they have another one where they dispay seasonal or particular courses.
I tried my girfriend's pasta and it was really good. The cuore di mozzarella is the heart of mozzarella di bufala, a mozzarella made from the milk of the domestic Italian water buffalo. It has a unique and unmistakable taste: some people love it and others don't, de gustibus.
I had also a tartara of salmon and mixed vegetables. It was really healthy and refreshing. I liked the fennel on top and the presentation, apart from the three tomatoes standing there on its own. Personally, the tartara was lacking in flavour. I would have liked it better with some pepper on top.
Overall, Platina is a little boutique-restaurant where you can find proper homemade pasta with a full extensive specials list. Service is friendly and accommodating. It has a romantic and relaxing ambiance.
I'm giving Platina 4.5 hearts out of 5!
Platina


http://www.platinapasta.it
Via Lecco,18 Milano
+39 0229522711