This past Sunday was a good one. I went to my first football game between Missouri and Tennessee. Every time a game is playing you can hear the chanting from the stadium! My girlfriend wanted me to experience football, the most popular sport in America, according to Wikipedia, so she surprised me with two tickets.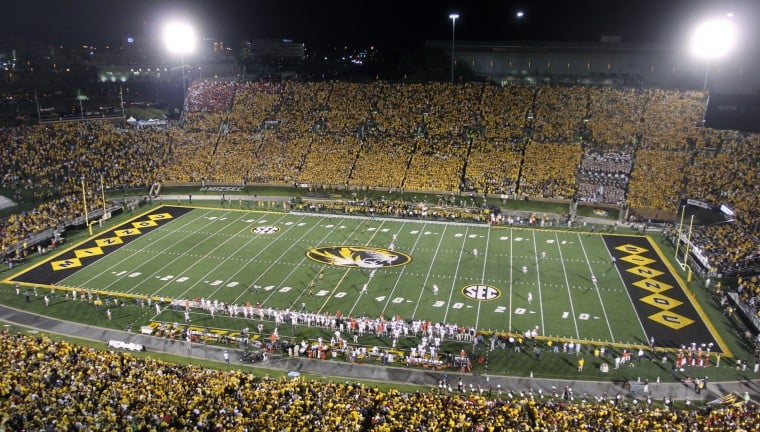 The stadium is enormous, but what shocked me more than anything else was how packed it was. Everyone was so into it! You can tell when people love a sport by their expressions, smiles and team matching clothes.
Nevertheless I came prepared, at least I tried. I wore a gold sweater and black pants, the official Mizzou colours and got set for the game.
The Marching Mizzou Band, the team players, the cheerleaders, the stadium all was grand and eye pleasing.
My favorite part of the game was the entrance of the team. Everyone was so excited and cheered so loud. The team was also in good spirits as they danced to the music on the sidelines and tried to hype up the crowd whenever they scored a touchdown. I honestly couldn't believe all the chants that the student section did.
Maybe it was the excitement of the crowd rubbing off on me, or maybe it was just the fact that I was experiencing something so incredibly American, but I loved every minute of the game. The tigers ended up killing the Volunteers, but the win didn't really matter, it was just fun to watch something so revered in America.
My first football game at Columbia, Missouri went above and beyond my expectations for what I thought a college football game would be like. It really makes you feel at home, standing among your peers cheering for the same victory. It gives you a sense of pride and shows you what team spirit really is. Go Mizzou! M I Z…Z  O U!!
For more info or to buy tickets, check out the official MIZZOU website