The Lasagna is one of the most loved foods in the world! Everyone has a taste of it or at least you should have!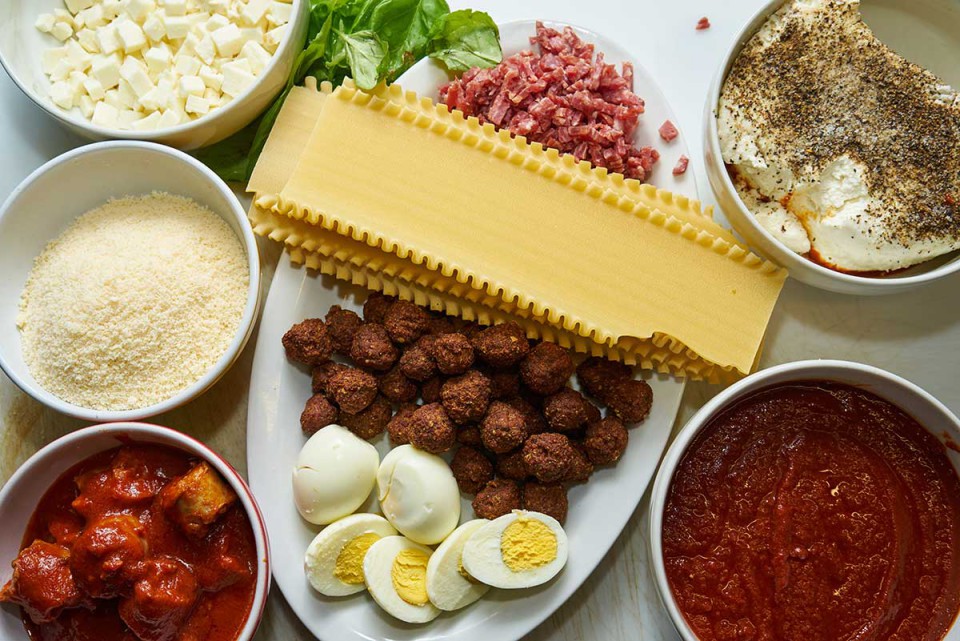 Lasagna has many versions, both within Italy and around the world. The most famous is "Lasagna alla Bolognese" i.e., from Bologna in the region of Emilia-Romagna. However, if you go to the south of Italy, you'll find another popular recipe "Lasagna alla Napoletana". The big difference is all about the ingredients used in the process. "Lasagna alla Napoletana" has eggs, sausage, scamorza and meat balls. It's definitely richer in ingredients!
Let's go straight ahead by answering some questions you might find useful.
WHAT KIND OF SAUCE SHOULD I USE FOR LASAGNA?
A good lasagna recipe starts out with a homemade Bolognese sauce. Bolognese sauce is a meat based sauce that gets its name because it originates in Bologna, Italy. In this recipe I've used a combination of lean ground beef and Italian style ground sausage. You'll want to be sure to use a lean ground beef (93/7) for best results so that the sauce doesn't end up greasy.
The sauce builds flavor with minced onion and garlic. You'll want to make sure to mince your onions (a very small dice) because you don't want the sauce to end up being too chunky. We are going for the ideal texture here and the only chunks in the sauce should be from the meat.
WHAT KIND OF CHEESE SHOULD I USE FOR LASAGNA?
This is a tricky question, it's not as easy as it seems to be. If you want to follow the traditional way of "Lasagna alla Bolognese" go with bechamel and you won't be wrong.
First you warm the milk in a saucepan, but don't let it boil. In a separate saucepan, cube the butter and melt it over low heat. As soon as it has liquefied take it off the heat and gradually whisk in the flour, making sure that no lumps form. Later on, Place the pan with the butter and flour mixture back on a low heat and add your warm milk, salt, nutmeg and ground pepper. Stir rapidly with the whisk until it thickens and becomes smooth.
A good tip* When making a bechamel sauce, don't stop stirring until you have added and incorporated all of your ingredients – this will help you to keep lumps from forming!
If you want to make a quick lasagna, my best advise would be in one word mozzarella and freshly grated parmesan cheese. You can have your mozzarella sliced at the deli counter in your grocery store or do it at home. You want fairly thin slices. 24 slices is the ideal amount and it should equal somewhere around 1 pound. Don't use shredded parmesan, you'll want grated for best results. Also, don't use that canned stuff. It doesn't melt the same as real, freshly grated parmesan cheese.
Last but not least, when you make lasagna more is better than less. After all, it's a full meal!
Lasagna is a great dish for any occasion, because it can be prepared in advance and can simply be heated up in the oven. My favorite time to eat lasagna is in Winter and Autumn when it's cold outside but really, I can have a bite during a hot Summer day as well. So much love for lasagna!!